Kia Ora, Walgett
Kia Ora, Walgett
price

Expressions Of Interest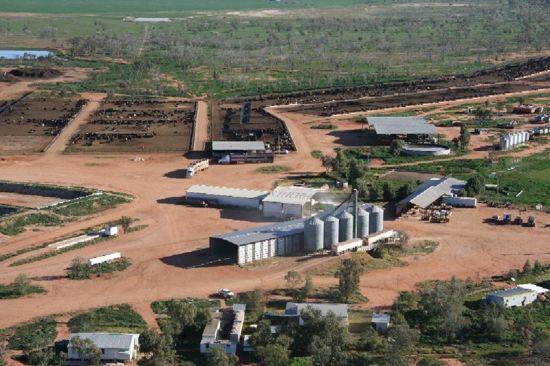 Click on any of the images below for a slide show or click on Image Gallery for more photos.
Kia Ora, Walgett
AREA:
17,303 ha Western Lands Lease (42,755 acres)
5,273 ha Arable (13,209 acres)

LOCATION:
Located on the Walgett to Brewarrina Road and situated approximately 65 kilometres east of Brewarrina and 75 kilometres west of Walgett.

TITLE:
Currently in the process of being converted to freehold.

RAINFALL:
400mm

COUNTRY:
Consists of near level flood plains rising to small areas of red ridges on the north eastern boundary of Kia Ora. In general terms, approximately 95% of the property is grey alluvial flood plain country with the remaining 5% being red ridges.

Manure generated from the Feedlot has been spread over the cultivation country on the property.

Comprises of open Mitchell grass plains running onto lightly timbered country. Kia Ora grows natural grasses and herbages in the winter including clovers, crows foot, lambs tongue and many more. Predominantly Myall, rosewood, coolibah and wilga on the open heavy country, with sandalwood, bimblebox and mulga on the red ridges.

ARABLE COUNTRY:
Kia Ora - 2,737 hectares
Glengai - 1,416 hectares
Lexington - 1,120 hectares
TOTAL - 5,273 hectares

FENCING:
Mostly all steel post and steel end assemblies with 4 plain wire and 2 barb, in good to very good condition. A very well fenced property.

WATER:
Frontage to Barwon River on Glengai, 4 inch and 2 inch piped water system through the centre of the property from electric pumps at the river on Glengai

Feedlot - 4 inch pipe system to 1 megalitre storage and 2 x 20 megalitre ground tanks, 2 x wells (1 x electric, 1 x solar pump)

A large proportion of the property is subject to beneficial flooding from the Barwon River on the southern section with the northern section subject to inundation from the Narran Lake. All structural improvements are located above known flood levels.

IMPROVEMENTS:
KIA ORA
C1950 renovated 5 bedroom homestead, office, lounge/dining/kitchen, bathroom, ensuite, billiard room, hallway and separate governess quarters
6 stand electric shearing shed with steel sheep yards
4 x 50 tonne vacuum sealed metal silos
1 x 50 tonne cone based metal silo

GLENGAI
Charming 2011 built 4 Bedroom brick house
C1950 4 bedrooms home, sunroom, family room, bathroom, kitchen/dining/lounge room and laundry.
C2004 hardiplank Austam home, comprising 4 bedrooms, lounge, kitchen, dining, laundry, bathroom, 2 x verandahs and 2 x carports
2 Bedroom cottage
5 stand electric woolshed
Steel cattle yards with Thompson Longhorn crush
1 x 100 tonne flat bottom silo

LEXINGTON
C2002 4 bedroom hardiplank Austam home comprising lounge, kitchen, dining, laundry, bathroom, 2 x verandahs and 2 x carports
Machinery Shed/Workshop with power connected

FEEDLOT
Processing Centre:
Concrete floor with steel frame and corrugated metal roof with open sides. Yards consist of steel post and rail with conveyor belt infills with a crowd pen design on a ratchet system. There is also an under and over loading system. The processing centre can handle 100 head at any time. Included in the centre is a hydraulic CIA Predator crush with all weights being linked back to the computer system in the office. Also in the processing centre is a cool room with insulation and compressor, toilet and shower amenities as well as a transportable office.

Feed Pens:
The majority of the construction of the yards consists of driven steel posts with steel rails and cables. The feed system consists of both concrete troughs on concrete aprons as well as conveyor belt feeders on concrete aprons. Shade sails are in the majority of the pens.

The total capacity of the pens is 5,000- 6000 cattle.

Feed Mill Complex:
Construction consists of concrete floor, steel frame with open sides and an approximate floor area of 250 m². The feed mill complex includes 5 x 200 tonne silos with interconnecting auger from a 25 tonne hopper. Grain is augered from the silos to an overhead bin, which goes through a cleaning system and then is mixed in detached trucks. These trucks discharge the mix directly into the feed troughs. There are 2 x 30 inch roller mills capable of mixing approximately 18,250 tonnes per annum. This provides surplus capacity to meet the existing needs of the feedlot.

There are 2 x 100kva generators attached to the feedmill shed.

Working Improvements:
Machinery Shed with concrete floor
2,000 tonne grain shed with concrete floor
80 tonne weighbridge with Atco office
4 x 5,000 tonne capacity feed bunkers for silage
Heavy steel frame machinery/hay shed

Accommodation:
Cottage 1 - 3 bedrooms, hardiplank
Cottage 2 - 3 bedroom shearers huts converted into a residence
Cottage 3 - 2 bedroom cottage of fibro construction
Mobile Home - Converted with lounge area and verandah
Units - 4 x 2 bedrooms units with kitchenette and common room

EXPRESSIONS OF INTEREST
Closing 4pm Friday 30th August
(if not sold prior)

All care has been taken in compiling this information sheet but it is prepared on instructions and details supplied by the vendor, for whom we act as agents only, and we cannot accept any responsibility for errors or omission (if any). Intending purchasers should satisfy themselves as to the correctness of these particulars.
| | |
| --- | --- |
| Bedrooms | 0 |
| Bathrooms | 0 |
| Garage | 0 |
| Kitchen | |
| Laundry | |
| Lounge | |
| Pool | |
| Back Yard | |
| Air Conditioning | |
| Flooring | |
| Land Content | |
| Land Size | N/A approx. |
| Units in Complex | |